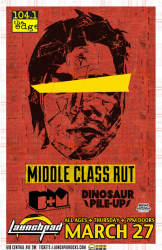 Middle Class Rut * Brick + Mortar * Dinosaur Pile Up
Time: 8:00pm Day: Thursday Doors: 7:00pm Ages: 13+ Ages Price: $12
This Event Has Ended
Ticket price is subject to change at door
When we last saw MIDDLE CLASS RUT, the band was tearing through a North American tour in support of 2010's No Name No Color and hit single "New Low." The song shot to No. 5 at alternative radio, its companion video (http://bit.ly/Ketxkv) racked up more than 4 million YouTube views and Middle Class Rut was, as USA Today declared, "on the verge."
The Sacramento, CA-based duo of vocalist/guitarist Zack Lopez and vocalist/drummer Sean Stockham shared stages with the likes of Muse, Social Distortion, Them Crooked Vultures, Alice In Chains, 30 Seconds To Mars and Linkin Park and more than held their own, drawing rave reviews from NME, the BBC, Alternative Press and Kerrang!, who proclaimed, "Their sound is nothing short of colossal, and one that a mere two-piece shouldn't be able to create, combining the boisterous swagger and pomp of Jane's Addiction and the feral fury of Rage Against the Machine." Added Alternative Press, "it's mind-blowing to witness the sheer depth and complexity of the sound these two guys are capable of unleashing on their own."
Lopez and Stockham are raising the bar with Pick Up Your Head, an album that sees the duo opening up their sound. "We realized we'd exhausted everything we could do with drums, guitar, and vocals," Lopez explains. "Once we decided to take an 'anything goes' approach, the songs poured out. We were freer with layering and didn't worry if we couldn't reproduce it live, as long as we captured the music with the highest energy possible."
Mixed by Grammy winning producer Dave Sardy (Johnny Cash, LCD Soundsystem, Noel Gallagher's High Flying Birds), the album was produced by the duo working alone in the studio. "We wanted to have a distinct sound," Lopez says. "Instead of jamming together, I'd write a bass line or a vocal melody. Sean would lay down a tempo and we'd write around that. For percussion, we'd use whatever was laying around – pots and pans, an old desk – anything with a nice crack and ring to it."
They recorded together in one room, so the music and vocals bleed into each other to preserve the feeling of a live performance. "There are more layers on this album, but we've been playing together so long, there was never a conversation about what kind of record we were going to make," Stockham says. "The songs and arrangements evolved as we played them."
The music on Pick Up Your Head has a denser, fuller sound than before, with Lopez playing bass and rhythm guitar, sometimes laying down multi-tracked parts. "On every song, we added percussive elements that play along with the drums to get a more spontaneous bang to build off of. It's not overkill, but it does sound more like a normal rock band. We had a budget, but we didn't send out for any fancy equipment. I used my practice amp and the usual amps I use on stage. We didn't use samplers. We didn't want any sounds a thousand different people have used before."
On "No More," Lopez piles up layers of grinding rhythms as Stockham's looped drum track adds a hint of funk to the song's message of desperate heartache. Stockham sings lead on "Dead Eye," a mournful tribute to the friends and family he's lost in recent months. The track's loping bass line and shimmering, reverb drenched guitar lines give it a country-esque vibe. "Sing While You Slave" describes the frustrations of a dead end job, alternating punched up guitars and a growling rant with jolts of processed vocals full of quiet desperation. The band shows diversity on tracks like "Leech," which has the bright feel of a 70s glam rock hit in its bouncy backbeat; the heavy surf guitar, tidal bass and primal drumming of "Cut the Line" and the Latin-tinged rap'n'roll of the title track. "Born Too Late" is a full-on blistering post punk attack, while "Take a Shot" closes the record with a quiet meditation on life's disappointments.
The album is introduced via its electrifying lead single, "Aunt Betty." Says Stockham, "A lot of the songs on the new record, including 'Aunt Betty,' existed as finished demos long before we even set foot in the studio. They were like these elaborate little buildings, finely chiseled, where every ornate detail had a definite purpose. Some needed a facelift, others needed ass implants. In the case of 'Aunt Betty,' she just needed some weight in the bottom end – a new foundation. We chopped her in half at the waist, fed her legs to the wolves, and rebuilt some new stems with thunderous thighs and bunda booty."
Keeping with the "anything goes approach," Lopez and Stockham are amplifying their live sound by adding a bassist, guitarist and percussionist. Explains Zack, "We were talking about our touring and figuring out how to play the new songs live and realized we had two choices: either we play to a laptop loaded with tracks, which would be lame, or we bring in some guys to fill out the sound, which seemed cooler. Sean was a little reluctant at first, which then made me reluctant, but we agreed to at least try it. If it works, great. If not, we'll just go back to the way we've always done it."
The band's roots can be traced back to Sacramento in the early 2000's. Stockham knew he was going to be a drummer from the moment he saw a fellow student bashing the drum kit in a junior high jazz-fusion band. "The sound of the drums in that big practice room was it for me," he says. "I'd been singing and dancing since I was four or five, but when I heard those drums, I knew that's what I wanted to do with my life." His parents had gotten him a drum kit and he spent every afternoon in his living room, bashing away to the bands on MTV.
Lopez, meanwhile, had been forced to take piano lessons—not the coolest instrument for a teenage boy. After struggling with a nylon string classical guitar that he couldn't get his fingers around, he got an electric. He learned the basic chords, ditched his teacher and started teaching himself. The two eventually hooked up and together with a friend, formed a band. Zack's mom had a tape deck. As soon as the still-unnamed band started writing songs, they'd record them. "We liked to listen to what we were writing right away," Stockham says. "We needed to hear it come out of a stereo."
The band called itself Leisure. They continued playing until everyone had graduated from high school. Lopez and Stockham were the core of the group, with other singers and guitarists coming and going. Eventually, they got signed by a major label and moved to LA. "We played bad rock music," Lopez says. "Sean and I played well together, but the other guys didn't. We'd always existed as a band within a band, it just took a long time to realize we could do it all ourselves."
Leisure made two albums; the label shelved them both. "The label got us an agent and a business manager, but it was pretty silly," Stockham says. "All this money was flying around, but we started getting disgusted by things that we had to do to keep playing the game. At the end, they didn't want to deal with us and we didn't want to deal with them." The band imploded. Lopez and Stockham stopped playing music for two years. "After the major label deal fell apart, we had to get real jobs," Stockham says. "While I was working, I was thinking, 'If this is what I'm going to be doing rest of my life, I'm going to go back to making music.'" The pair reconnected and decided to play as a duo.
They were reenergized and recaptured the excitement they felt when they first started playing together, only this time they could both wail on their instruments, with a bracing intensity and aggression to spare, even when they played acoustic songs.
"We decided to be totally independent," Lopez says. "We booked and promoted ourselves and did a national tour before we had a label, just two of us in a van, with one buddy who did our sound." Stockham had recorded the music he made with Lopez years ago, developing his production skills as they learned how to play. They quickly fell into a pattern of intense songwriting, recording and performing. "Recording our own music was a part of our process, ever since we were kids. As soon as we finished writing a song, we cut it. That's what we did with Rut."
Lopez agrees. "We cut [everything] on the album live, just threw down guitar and drums and it was finished. If we like something enough to record it, we'd capture it with the highest energy possible, right in the moment, everything totally stripped down." The recordings were sold online and at shows as The Blue EP and The Red EP. When DJ Andy Hawk at KWOD in Sacramento played "New Low," things opened up and the band took off. Bright Antennae signed them, their demos became their first album, No Name No Color, and they've never looked back (read: no more day jobs).
"We're super-excited about this record," says Lopez. "The first album was a collection of songs that had been written and recorded over a period of years. This one is way more cohesive from start to finish. When you listen to it, you can tell that it was all written in the same headspace."
The album got off to a good start, with USA Today naming "Aunt Betty" "Song of the Week" in the March 6th edition of the paper. "It's a good sign," says Stockham. "Wait till they hear the other 13 tracks."
DINOSAUR PILE-UP
Dinosaur Pile-Up's Matt Bigland knew exactly where he was heading when he started the Britrock outfit's second album. "I wanted this album to make you feel something," he says, "good, bad, whatever. I wanted it to drag whatever was inside of me kicking and screaming and dump it on the tape, so that whoever's listening to it can feel the same. I wanted this album to kick you in the face."
Impressive talk. But as is suggested in the record's title, 'Nature Nurture', sometimes the forces around you can have ideas of their own, and the journey will take you to places you had barely imagined. To recap, Dinosaur Pile-Up broke out of the fervent Leeds rock scene at the end of last decade, their debut album 'Growing Pains' inviting favourable comparisons to the cream of 90s US college rock, and touring with likes of Pixies, Feeder, Cage The Elephant and Twin Atlantic. They quickly became one of the hottest-tipped of a new generation of UK rock acts, and the latest incumbent of the 'grunge revival' at the hands of a media hungry for one. Bigland had written and recorded 'Growing Pains' himself, but touring had turned the outfit into a 'proper' band, albeit one with something of a revolving door policy.
And after two years in the road in support of 'Growing Pains' that door spun faster on Matt than ever before, with drummer Mike Sheils and bassist Johnny Seymour deciding to leave the band within days of each other, mere days before sessions were due to start.
"It did feel like a weird break-up," he remembers, "because with Mike especially, it wasn't like he did anything wrong. Being in band is hard, I understood that. For a while after I was so down, but it was either I did the record on my own or I didn't do the record. And I had to do the record. So I just went and did it."
After an intense six-weeks relearning all the other instruments, the now reluctant polymath went into Rockfield Studio in Monmouth and the Courtyard in Oxford with producer Ian Davenport (Band Of Skulls, The Duke Spirit) to do something he had already done in an entirely new way. Matt learned that "Ian likes to feel the music, which is quite an interesting point of view. I always just think, 'well how does it sound' whereas he's like 'how does that make you feel when you're playing it, and if it doesn't make you feel something then you should probably change it'."
An intense period, of both creativity and self-discovery led eventually to 'Nature Nurture', a record that builds on the crisp, euphoric power-pop of 'Growing Pains', but paints it in broader colours and a wider emotional range, from the brazen Main Stage pop bluster of lead single 'Arizona Waiting', through the Kinks-infused psyche of 'Summer Girl', to the robotic crunch of 'White T-Shirt And Jeans'. While retaining what made the rock world fall for them in the first place, it revels in the rich history of British pop from the sixties and seventies.
As proud as he was of 'Growing Pains', the clue was maybe in the title, and this is the realisation of a grander vision. "This time, I saw everything on a bigger scale. I wanted people to connect with these songs. I didn't see crowds of kids in shitty basement clubs listening to this album. I saw thousands of kids all losing their shit at the main stage of some festival or something, all feeling the same thing at once."
And that title? "It felt like a nice place to take it from 'Growing Pains' and I like the fact that it's a question of, 'is this how it's meant to be? Or do you try and change it because that's how you think it should be?' For some reason it seemed to fit my situation where I always end up doing stuff on my own. Should I be trying to change something, or is that just what I'm meant to be?"
Getting the record made certainly forced Matt to confront a couple of demons. The title track, he says, was in a roundabout way inspired by Marlon Brando's character in Apocalypse Now. As he explains: "He's gone from the height of this controlled, tamed way of being, to the most far-out, bare human instinct he can find. He's gotten to grips with weird character that was under everything else, and he was that person all along – it was just hidden under all these layers. That's feels relevant to what this album is about for me."
"I suppose that's what the album's about, being that person that's under all that other crap. I feel like people are always living in these boxes that they think they should be, when they're not really like that at all."
So this record's unlikely gestation just goes to underline the lessons in that journey, and in the contradiction of its title. At the end, there is the revelation that what you find within yourself is probably going to be okay.
Dinosaur Pile-Up now emerge with one of the brightest, most bruising rock records of 2013. To give the story an extra sweet twist in the tail, actually hearing the record made Mike rethink things once again and is now back, fully paid-up and more committed than ever. After a period of adversity, Dinosaur Pile-Up are a team once again facing a brighter tomorrow. "Making the album, things felt very on the edge," nods Matt, "but that only had the effect of making the songs come out more real, and alive. It's a REAL guitar record, I couldn't be more proud of it." 
Get ready to be kicked in the face all over again.