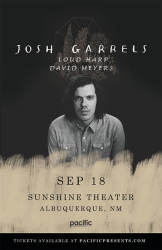 Transparent Productions presents
Josh Garrels * Loud Harp * David Meyers
Time: 7:15pm Day: Monday Doors: 7:00pm Ages: 13+ Ages Price: $15 - $35
This Event Has Ended
Ticket price is subject to change at door
Show schedule:
7:00pm — Premium (early entry) doors
7:15pm — General doors
8:00pm — Show time

A native of Indiana, singer/songwriter Josh Garrels has built his career on deeply personal, introspective lyrics and exploratory sounds that range from pastoral indie-folk to hip-hop. After playing in punk bands during his teenage years, he fell under the spell of East Coast rap before college. In his early twenties, Garrels came into the Christian faith, which became a major thread in his musical journey. From the start of his career, Garrels has chosen to self-record, mix, produce, and distribute records without industry management or label representation, beginning with the lo-fi bedroom recordings Stonetree (2002), Underquiet (2003) and Over Oceans (2006). Possessed of a rich, soulful voice, he began to add more orchestral elements into his folk-based sound, sometimes rapping, sometimes crooning his complex but approachable songs. Many of the songs in Garrels' catalogue evoke natural, visceral imagery, both from the Midwest where he was raised and attended college, and now from his home in Portland, Oregon.