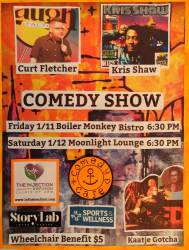 The Crippled Comedy Tour
Curt Fletcher & Kris Shaw
Hosted by Kaatje
*A Wheelchair Pillow Fundraiser
Time: 7:00pm Day: Saturday Doors: 6:30pm Ages: 21+ Ages Price: $6.00
This Event Has Ended
Ticket price is subject to change at door
Comedy Show and wheelchair pillow fundraiser with national headliners Curt Fletcher & Kris Shaw. Music by Adam James, doors open at 6:30 PM, comedy starts at 7:15 sharp. Hosted by Julien Brooks. This is a nonprofit event, for Kaatje's new wheelchair pillow to keep performing comedy.
The Crippled Comedy Tour starts on Friday January 11 at Boiler Monkey Bistro, doors open at 6:30, comedy starts at 7:30 PM. If you buy tickets for The Crippled Comedy Show on 1/12, you'll have access to music at the Moonlight Lounge at 9 PM.
Headliner Curt Fletcher has performed with the biggest names in comedy: Jim Norton, Brian Posehn, Josh Blue and Kyle Kinane. He's performed at major clubs in the country, and was selected for World Series of Comedy in Las Vegas three times. Curt appeared on the Morning Brew with Friends, and four times at The After After Party TV show.
Headliner Kris Shaw will be at Santa Ana's The Stage on Thursday January 10. Kris is a storyteller who, with quick bursts of wit and carefully crafted silences, keeps the audience engaged through everyday observations and tough topics alike. Kris is a fan favorite who tours comedy clubs, colleges and events all across the United States and Canada.
Kaatje Gotcha is known as the "Broke Ass" comedian. As a stuntwoman, she landed on her tailbone at 70 mph from a failed parachute. When that spinal cord injury progressed to an incurable nerve disease, she turned to comedy, writing and storytelling. She is the first Dutch citizen to perform at TEDxABQ 2018, with a talk on spinal cord injuries, ketamine and comedy. Kaatje is a tireless advocate for diversity in the performing arts.