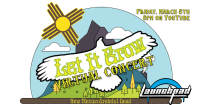 Let It Grow Virtual Concert from Launchpad
Time: 8:00pm Day: Friday Ages: All Ages Price: $5 Suggested Don
This Event Has Ended
Ticket price is subject to change at door
Launchpad's virtual concert series is back with brand new concerts from some of our favorite local bands!
Next up, we've got one of New Mexico's premier Grateful Dead tribute bands, Let it Grow!

We can't do these concerts without your continued support. Please visit our Patreon page to see how you can chip in and get exclusive rewards for your support. http://www.patreon.com/Launchpadabq
We will be streaming this all over the Facebooks on Friday, March 5th at 8pm. It will also be on Launchpad's Youtube Channel, which you should go and subscribe to right now. 🙂
http://www.youtube.com/launchpadabq
Love you all so much. Thanks again for the support.