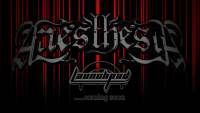 Anesthesia Virtual Concert from Launchpad
Time: 8:00pm Day: Friday Ages: All Ages
This Event Has Ended
Ticket price is subject to change at door
Launchpad's virtual concert series continues with some beer drinking heavy metal from Albuquerque legends Anesthesia!
We will be streaming this all over the Facebooks on Friday, April 9th at 8pm. It will also be on Launchpad's Youtube Channel, which you should go and subscribe to right now. 
http://www.youtube.com/launchpadabq
Love you all so much. Thanks again for the support.