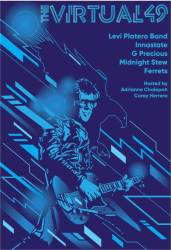 The Virtual 49
Levi Platero Band, Innastate, G Precious, Midnight Stew, Ferrets
Time: 8:00pm Day: Friday Ages: All Ages
This Event Has Ended
Ticket price is subject to change at door
Every year, The Electric 49 showcases Indigenous rock bands from New Mexico and beyond, while everyone in Albuquerque celebrates the Gathering of Nations Powwow. This year, we are taking our showcase to the internet!
FEATURING
Levi Platero Band
Innastate
G Precious
Midnight Stew
Ferrets
Hosted by Adrianne Chalepah & Corey Herrera
We will be streaming this all over the Facebooks on Friday, April 23rd at 8pm. It will also be on Launchpad's Youtube Channel, which you should go and subscribe to right now. 
http://www.youtube.com/launchpadabq
Love you all so much. Thanks again for the support.